When it comes to dependable and efficient last-minute emergency roof repair in Toronto, you can trust the experienced contractors at Right Choice Roofing & Repair to deliver top-quality results as quickly as possible. Our fully licensed contractors offer full onsite inspections to assess the total extent of the damages and make appropriate roof repair service recommendations. With over a decade of experience in the roofing installation, repair, and maintenance industry in Toronto, we're fully confident in our ability to restore your commercial or residential roof to its former glory in record time.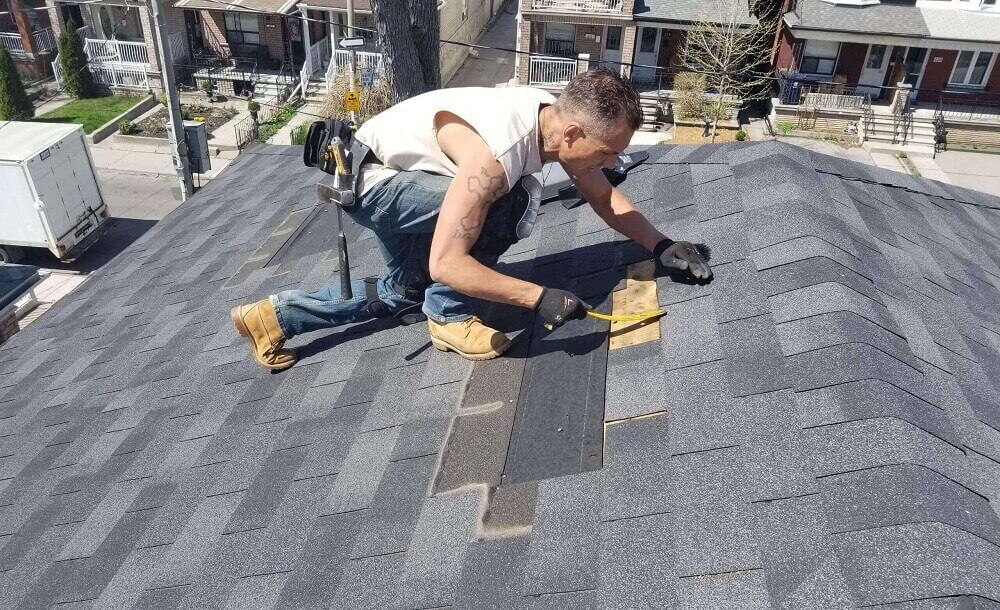 Are You in Need of Immediate Emergency Roofing Repairs in Toronto and the GTA?
Emergencies are typically unexpected. So, when your roof becomes damaged as a result of an unforeseen event such as a natural disaster, vandalism, or structural inadequacies, our expert roof repair contractors will be on the job as quickly as possible.
In addition to our friendly and courteous roof repair services, we also offer same-day emergency roofing estimates after thoroughly inspecting the condition of your roof and the extent of the damages. Whether you're noticing leaks, water damages, cracking, crumbled shingles, or any other signs of roofing damages, you can count on our roof repair contractors to deliver fast and affordable roof repair services in Toronto and the GTA for your commercial or residential property.
Once we've fully assessed and diagnosed the damages, we'll map out an appropriate plan of action to make the necessary emergency roof repairs and explain all of your options to you. We're always available to answer your questions and address any concerns you may have regarding our roof repair services in Toronto.
What Are Some Common Roof Repair Emergencies in Toronto and the GTA?
Water, Ice, and Debris Buildup
Flat roofs are particularly prone to water, ice, and debris buildup because they lack adequate drainage systems. Water, ice, and debris tend to collect in certain parts of the roof, eventually eroding and penetrating the surface, which can lead to extensive damages and the need for emergency roof repairs in Toronto.
Leaking Roof
Leaks in your roof can be caused by a number of elements including inclement weather conditions, animal damages, and other unexpected circumstances. It's important to contact a roof repair contractor to fix a leaking roof immediately as the water damage can quickly spread to other parts of your roof and destroy the finishes throughout your property. If neglected for too long, leaks can also lead to flooding throughout your property.
Holes Throughout Your Roof
Over time, continued exposure to harsh weather conditions like strong winds, heavy rains, snowfalls, hail, and even constant direct contact with the UV rays from the sun can lead to holes throughout your roof. Even worse, natural disasters can cause tree limbs to fall directly through your roof, causing serious damage and potential bodily harm. Holes in your roof leave the interior of your property completely exposed to external elements, which can lead to even more expensive roof repairs in the GTA.
Emergency Roof Repair Services in Toronto and the GTA
If you have roof problems, we have the solutions! No matter what type of roofing damages you're dealing with, Right Choice Roofing & Repair is always the right choice for the job! We offer competitive pricing and same-day quotes for all emergency roof repair projects in Toronto and the GTA. Contact us to learn more.