Roofing Consultation from Right Choice Roofing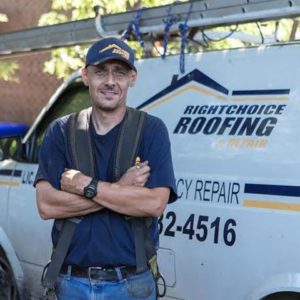 Right choice roofing and repair is Toronto's one stop shop for any roofing needs.
I've been servicing the Greater Toronto area since 2007. I'm customer oriented and take pride in what i do. I offer any roofing service you may require. Roof repair. Roof replacement. Drainage. Structure work. Carpentry. Ventilation systems. These are just a few of the systems and services I offer to any of my fellow Torontonians.
Roofing in Toronto is what I do. Repairing and replacing our iconic and historic buildings is what i specialize in. Downtown work. Steep applications. Bad access. High traffic locations.
Let our experience make your up and coming roofing requirements as simple as possible and please allow our friendly and courteous installers help you with your purchase.
I'm Frank Gillis. I'm owner and operator. I personally complete all the work I sell. I'm here to provide a stress free service and i know that its all about the customer. I guarantee an honest assessment and a professional service. I invite you to check me out. Feel welcomed to look into Right Choice Roofing and Repair. Let my credentials speak for themselves.