Constant exposure to natural elements like rain, snow, sunshine, and even drastic temperature changes from hot to cold and vice versa can cause serious wear and tear for your residential roof over the years.
Minor damages like cracked shingles can easily be fixed with a residential roof repair. But when the damages are extensive or run across your entire roof, then this can have seriously negative consequences. Eventually, a full residential roof replacement will be in order.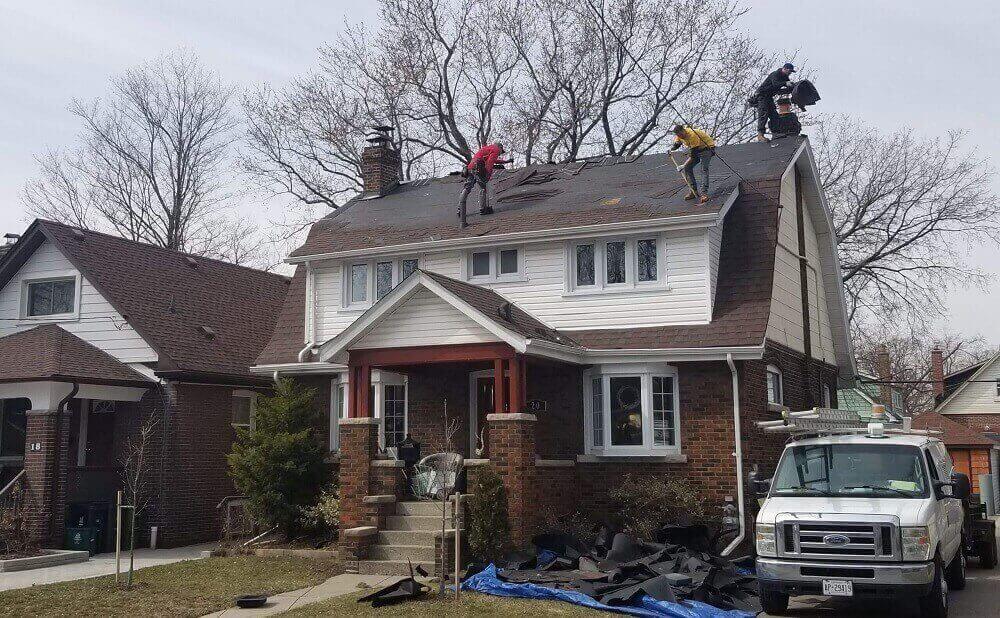 For all types of residential roofing services in Toronto, you can trust the expert roof repair contractors at Right Choice Roofing & Repair.
Not only do we have many years of experience working in the roofing industry, but we're also very familiar with the different climates across Toronto and the GTA during certain times of the year. Based on that extensive knowledge, we can offer appropriate residential roof repair and maintenance solutions that work for your exact location and fit within your budget.
We're also fully licensed to provide routine expert roof inspections throughout the year to make sure your roof is properly insulated and help lower your heating and cooling bills as well. The more you take care of your roof, the more you'll get out of it!
What Are Some Common Roof Problems in Toronto?
These are some of the most common problems we've dealt with that have required residential roof repairs and replacements in Toronto and the GTA.
Leaks
Every experienced roofer will tell you that the most common roof problem they see are leaks caused by various factors. Typically, natural elements like storms, heavy winds, rainfalls, snow, ice, and even damages from pests and animals can wear away your shingles over time. It's important to contact a roof repair contractor to fix a leaking roof immediately. Otherwise, water will continue to seep into your home, damaging your interior fixtures and belongings.
Cracked or Broken Gutters
When it comes to draining water from the roof of your home, your gutters are your first line of defense. Cracked, broken, or even clogged gutters prevent water from properly draining and can cause it to pool on certain parts of your roof. Excess water and debris can slowly erode your roof over time and cause it to become brittle. If this is the case, you may require roof repairs on your Toronto home.
Lack of Maintenance and Poor Construction
Most homeowners don't give their roof a second thought until something goes wrong and they're forced to hire a roof repair contractor. But part of being a responsible homeowner is maintaining your property—especially the roof. Construction companies are on a tight deadline and sometimes they do a subpar job when it comes to roof installations just to get the job done faster. Combine that with lack of regular inspections and maintenance, and you've got a recipe for a roofing disaster.
Hire a Professional Roof Repair Contractor in Toronto
At Right Choice Roofing & Repair we provide comprehensive residential roof repair, maintenance, and installation services to our customers in Toronto and the GTA. From routine inspections to minor repairs and full residential roof replacements, we do it all. Our competitive pricing, quality guarantee, and service with a smile are what keep our customers coming back. We also offer next-day estimates. Contact us today to learn more about our roofing services in Toronto.